New building
The beds in twin room can be used as a double bed by connecting. Also we have the connecting rooms which suits for families and large groups. They offers you the best trip.
Main building
You can spend luxurious time in the room designed in accordance with the concept.
In addition, you can enjoy the traditional atmosphere of Japan in Japanese-style rooms, Western rooms.
Amenities and equipment
Amenity
Ion dryer, body soap, shampoo, rinse, toothbrush, shaving, cleansing foam, hairbrush, cups, towels, bath towels, shoehorn, clothes brush, slippers, deodorant spray
Lending goods
Trouser press, iron, ironing board, mobile charger, Children's Room Clothing (90㎝-110㎝-140㎝ and more)
Amenity
LCD TV, VOD (pay-TV), wireless LAN (Wi-Fi, safe (main building and new building only), electric kettle, humidifier, refrigerator, green tea, intercom, alarm clock, morning call

● Check In 15:00 / Check Out 10:00
Hot spring
Natural hot spring "Uzushio onsen"
Water of our hot spring is flowing directly from the hot spring source.
Spring quality is sodium hydrogen carbonate spring gushing out from 1000 meters underground whose indication is rich. We have large bath(with Jacuzzi bath), private bathes(rock, cypress, stone), room bathes.
Facilities in large public bath "Bijin no yu"

In public bath, there are some kinds of bathes, such as an open-air bath which has beautiful natural scenery, a refreshing Jacuzzi bath. We have a high-temperature sauna for men and a mist sauna for women. 
● business hours [accommodation numeral 6: 00 ~ 24: 00 [stop hot water numeral 6: 00 ~ 24: 00
● Admission business hours 12: 00 ~ 24: 00 [accommodation] Free [drop in hot water] adults / 800 yen child (6 years old to 11 years / elementary school) / 400 yen Infant (3 years old to 5 years old) / 250 yen
Private bath for family and group

For private bath, we have eight rooms of three types which are traditional styles of Japan.
You can spend special time of relaxation with the family or group.
● business hours [hot water drop lodging, numeral 12:00 ~ 23:00 (final acceptance 22:00)
● bath type rock bath, Japanese cypress bath, Ishifuro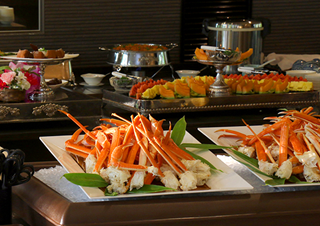 This is Japanese-style restaurant. We prepare breakfast for buffet-style using seasonal vegetable and fresh seafood such as sushi, miso-soup, "oden", and so on.
You must make a reservation if you want to have a dinner at this restaurant.
The private rooms is also available.
Morning meal / 7:00~9:30
dinner / 19:00~21:00 (lo.20:00)

Morning

dinner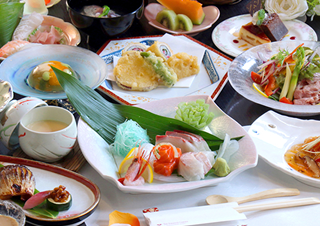 This is Japanese-style restaurant designed with tatami, ikesu which is like aquarium. We have 112 seats.
We serve the dishes such as sushi, tenpura, sashimi, udon, soba, and so on.
There are comfortable space and reasonable price.
11:00~23:00 (lo.22:30)

lunch

dinner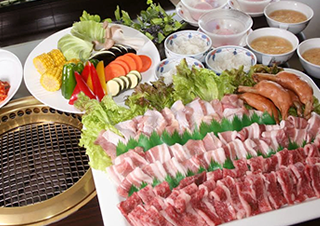 This is Japanese-style BBQ restaurant. The smoke does not go out because of the special roaster.
We serve the dishes such as beaf, pork, chicken, seafood, vegetable, rice, soup, salad, and so on.
If you want to have a meal, you must make a reservation.
18:00~23:00 (lo.22:30)

dinner
Main building 1F~6F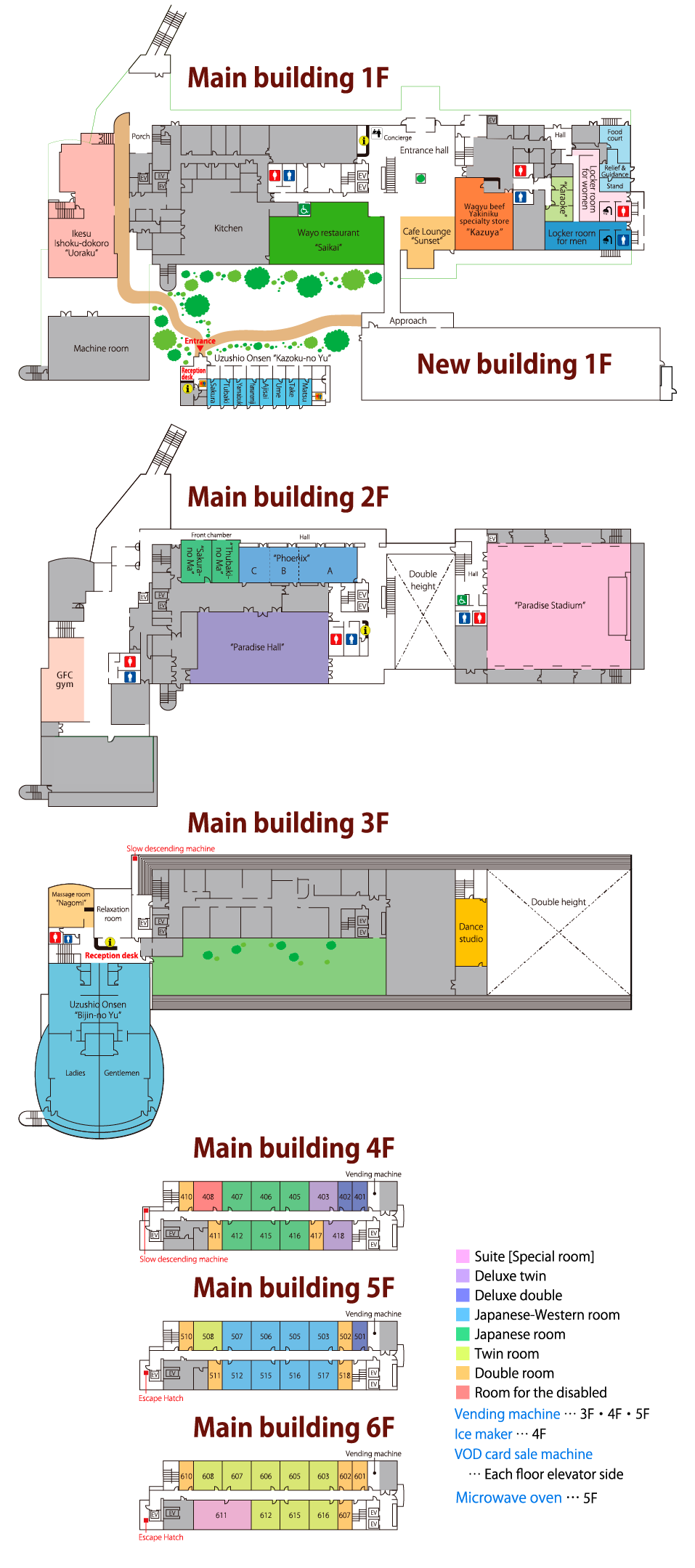 New building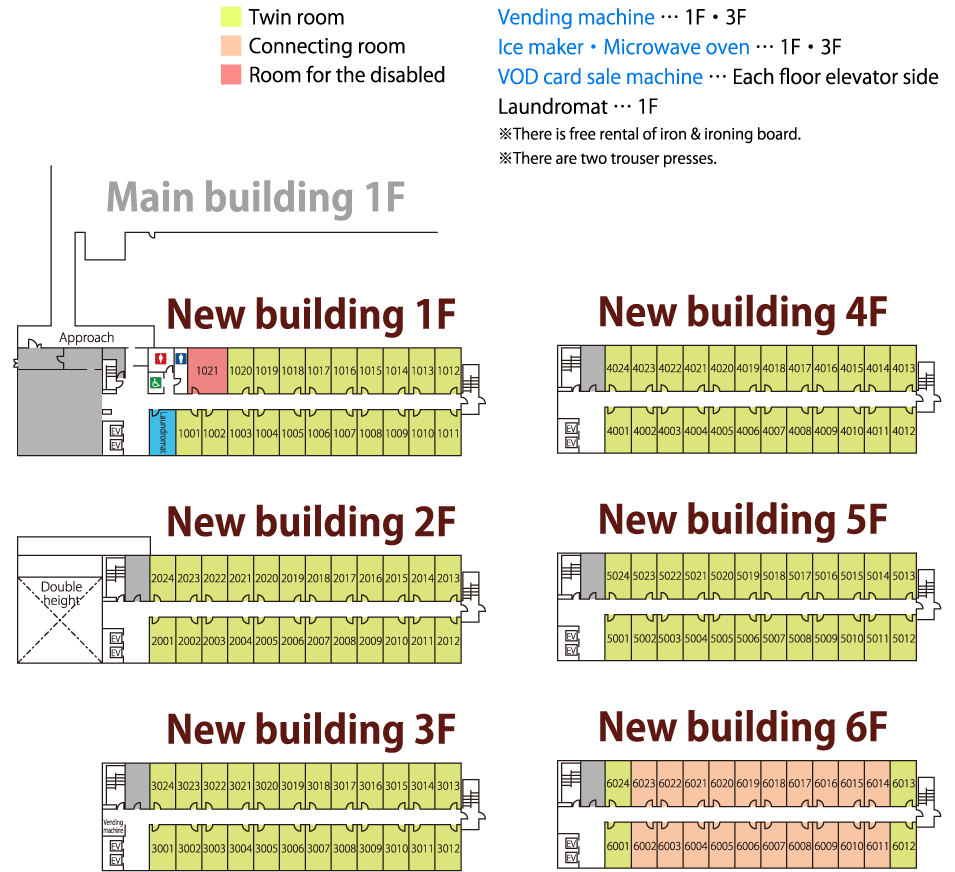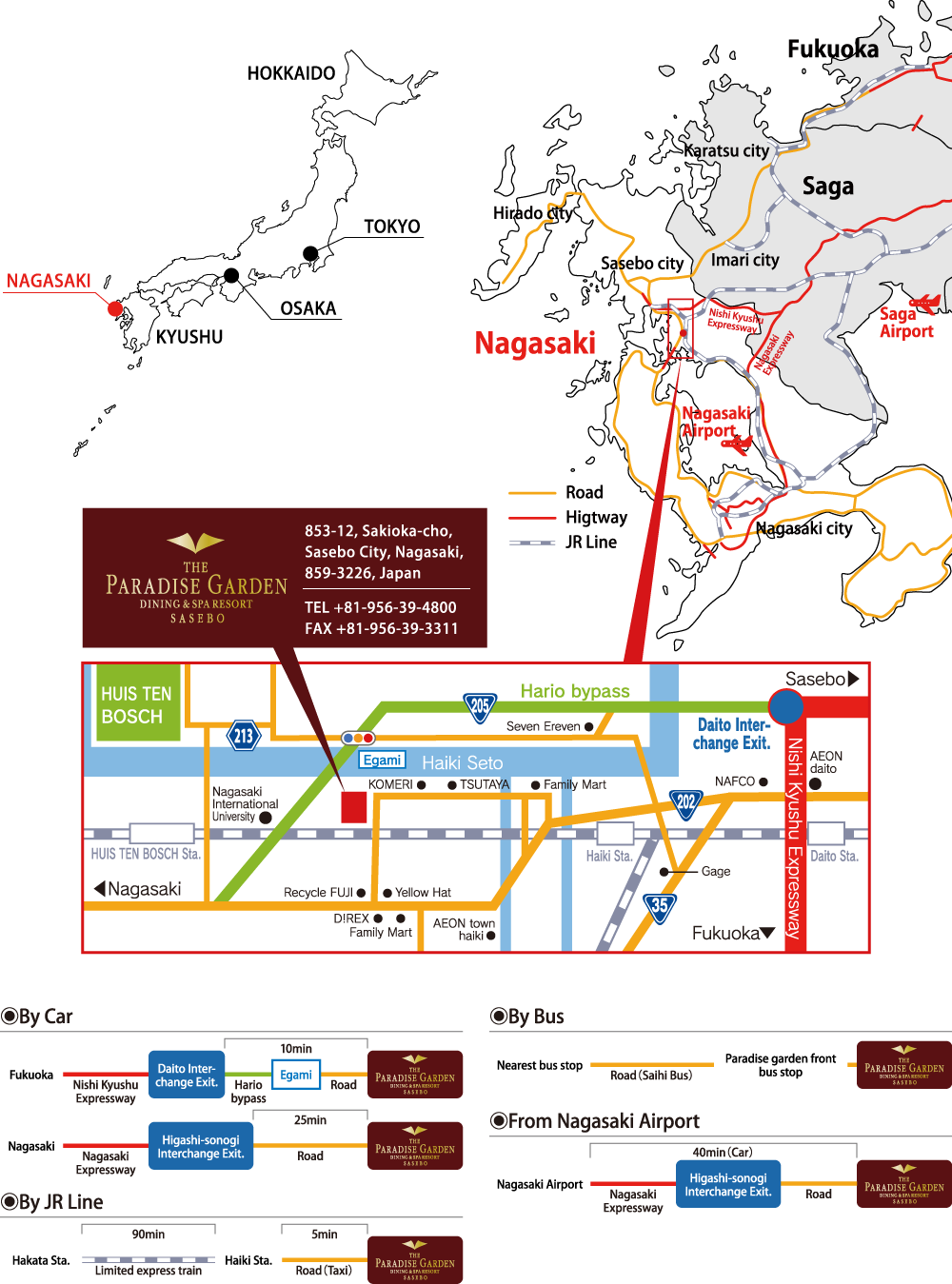 Paradise Garden of the brochure, please download from the following.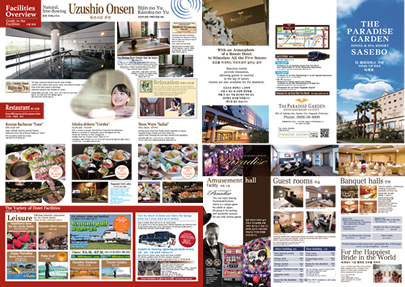 English,Korea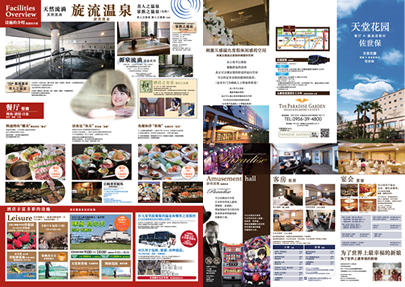 Chinese